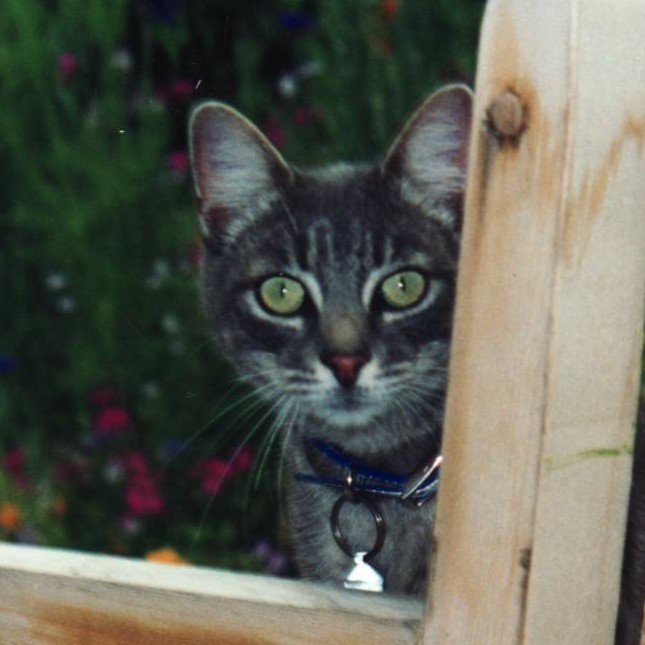 At approximately 4 PM on July 28th, my cat Hank was put to sleep.  Over the next two days, I was at a wedding with two ceremonies.  The first was a ritualized Hindu wedding for the groom's family and the second was the traditional American white wedding for the bride's family.  To go from death to a wedding so quickly was jarring.
Hank's life had been interwoven with mine for over 14 years.  He greeted me at the door when I came home, insisted on drinking running water out of faucets, and loved to ride on my right shoulder only, among a myriad of other things.  I went shopping for him thoughtfully, deciding which types and flavors of cat food would please him.  The last few months of his life, I got up about 4 times a night to feed him, because he was sick and I was willing to do whatever he needed. There were a zillion different ways and moments that we interacted over the years. There are countless memories and thoughts of him that are moving through me.
The Hindu wedding was long and steeped in tradition with the recognition of marriage as a threshold into a new world – the entrance of a new person into a family, and the understanding that this was a significant event. I wasn't raised with ritual: just the regular birthdays, Thanksgiving and Christmas traditions. But these were not given the weight of markers of a new and changed world.
Birth, death, marriage, divorce and children leaving home are all markers of big transitions.  Life isn't the same or may be radically different after these occurrences.  Our moment-to-moment reality is forever altered.  Someone who was part of the fabric of our life is no longer there, leaving big open gaps, or someone new steps in causing our life to reorganize.
I grew up in a family without the recognitions of this.  I do not believe that a true understanding of relationship – the sacredness of the meeting of two souls, was recognized or honored. Events came and went, pets came and went.  Transitions occurred with no reverence of the significance of them.  My family was simply not tuned into the bigger cycles of life.  We lived in a small day-to-day world of survival and getting the tasks of the day done. The significance of what it really meant to be connected to someone else, to share our life with others in a holy way was not part our consciousness.  I believe that our family missed the significance of the spirituality of connection and love.  Not until my father died in 1998 was there any real recognition of this due to the impact this event had on all of us in my family.
I cannot explain my connection with Hank; I was simply closer to him than to any other being on the planet.  I think of the specialness of our relationship and the many moments that can never be again.  I think of the beauty of his soft grey striped fur and his speckled belly. I believe that my relationship with Hank is a metaphor for all of our relationships with each other.  They are each unique and whether they are filled with a big love (as with Hank), compassion, irritation, resentment, or something else, they take up a specific time and place.  They fill the space of our psyche and are the threads of the fabric of our lives.
Our lives are embedded in relationship – relationships that come and go, as our lives come and go.  Who will know the story of Hank when I am gone?  Our story will be in the rustling of the dry autumn leaves, part of the echo of the universe, a beautiful note among many other notes.
For me, relationships reveal an awesome responsibility; the responsibility to truly see another and grapple with what that connection means to us and does to us – the feelings it triggers in us, whether grief or anger, resentment or guilt, love or adoration – and how we choose to deal with these experiences and feelings. Because this process actually is our life.   And the opportunities and experiences of today, will not necessarily be here tomorrow.
https://www.jenniferlehrmft.com/wp-content/uploads/baby-hank-e1380400449991.jpg
645
645
Jennifer Lehr MFT
http://www.jenniferlehrmft.com/wp-content/uploads/ee-Logo.png
Jennifer Lehr MFT
2011-07-31 13:47:21
2023-01-07 23:31:14
Markers of Change