The Little Black Bag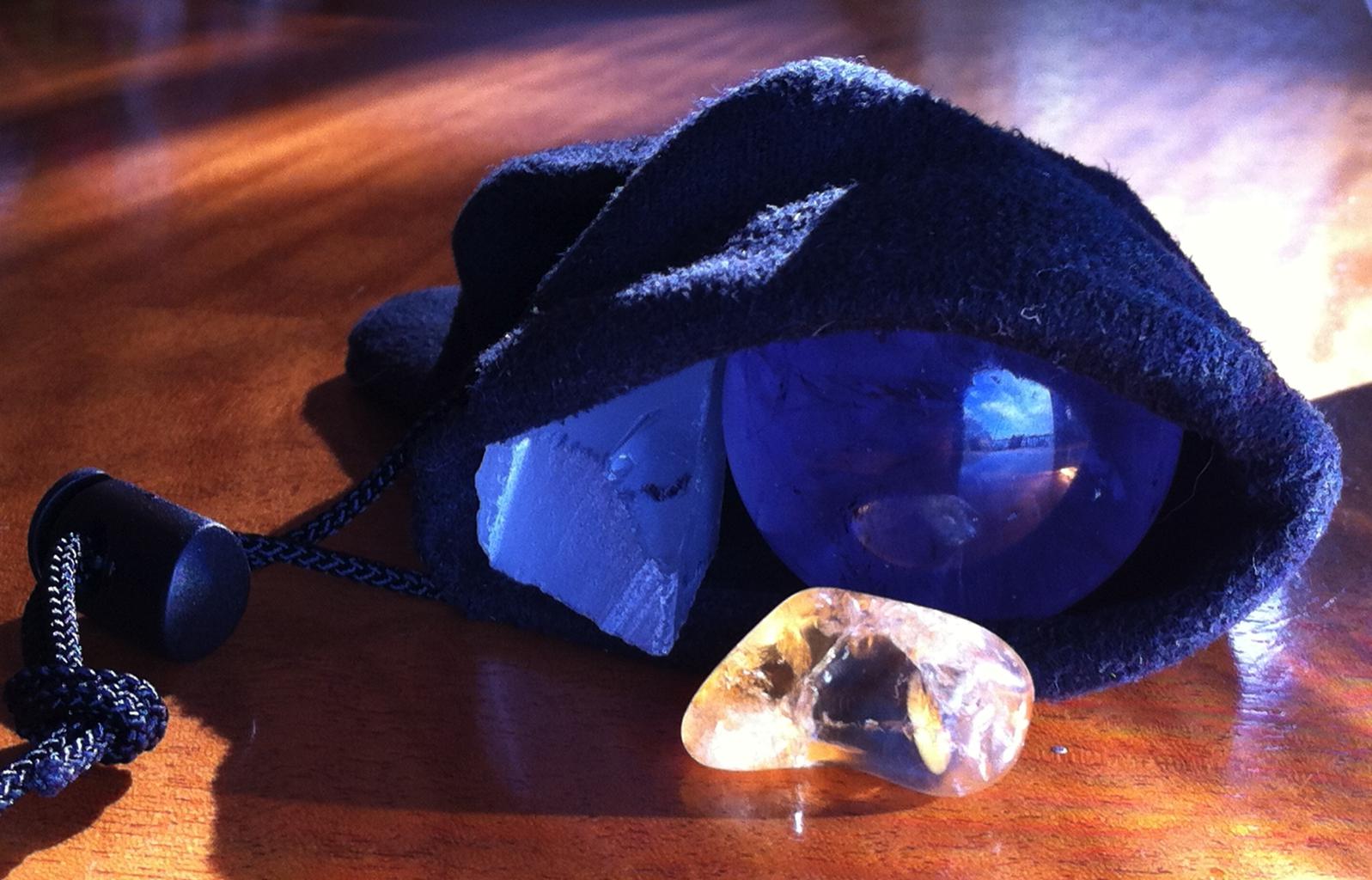 I heard a story today about 'the little black bag.'  One of my yoga teachers told the story of when she first realized that she loved to write.  She was in 2nd grade. But then at a parent teacher meeting her teacher indicated that perhaps there was a problem with her stories. This woman decided then that it wasn't okay to tell her real stories, or show her true self. She put part of herself in a little black bag.  Nobody knew this part, including herself.  She has spent years reclaiming the contents of that bag.
This is also my story.  I didn't know I had a black bag of course.  Most people don't, until the black bag begins to erupt or in some other way cause problems.  My black bag contained a lot of experiences that were too hard for me to handle.  As a child, teenager and young adult, it was so full that I was only part of a person.  There were memories that I had no recollection of, losses that I had experienced that were part of me, yet I didn't remember them.  The result was a person who was anxious about everything and often depressed and didn't know why.  The result was a person who didn't pick good partners.  I didn't know how.  My power was in that bag and I hadn't yet learned to get to it.
My life has been about reclaiming all that had been put away out of sight, and helping others do the same.  It has been about emptying the black bag.  This has opened up to new and more beautiful vistas. What was once about 'reclaiming' parts of myself is now about connecting with larger fields of support and abundance.  But this cannot be fully accomplished when you are trapped by cut off parts of yourself and fear.  Even if you are able to be successful in the sphere of work for example, something in your black bag may be sabotaging your relationships – or vice versa. Until you fully reclaim all of you down to the roots, the reach to the empowerment and abundance is not complete.  Until you claim all of you, you are a segregated being.  And those parts of yourself that are 'off limits' will be reflected outward in your life, for parts of others will also be pushed away and judged, or put on a pedestal. Those unfinished parts of your story will hold you back. They will hold your relationship back.  Part of our lifeblood is in that black bag.
For me, the internal process of getting to know all of myself is like coming home.  It is why I am a therapist and a writer.  It is the air I breathe. I know many people are afraid of therapy. The idea of sitting with someone they don't know and telling them 'everything' just doesn't sound welcoming.  I understand. I'm not crazy about climbing mountains. I don't want to dive to the bottom of the sea or fly to the moon. Those kinds of adventures are scary to me. But just the same, there are huge benefits to undertake this journey to the center of yourself.
I wasn't always a therapist.  I started in the arts. I didn't realize that I was on a journey to become a therapist until I was the cinematographer on a low budget action film.  The beautiful images I was creating were part of a story that had nothing to do with matters that were close to my heart.  I didn't care about the car chase gone bad, or the explosions I filmed on the Ventura dock.  My interest was in talking to people about their own stories, helping them to sort out their confusions and conflicts, allowing more breath, freedom and lightness into their lives. It was not in helping somebody make a film so that they could 'make it' in the outside world instead of dealing with a compulsion to prove themselves that came from a deep interior wound.
I realized that I was more interested in how we 'create ourselves' than in creating 'products' to be consumed.  I was more interested in real empowerment, not an empty quest that came out of an internal lack. When this realization occurred, my focus shifted fully from the outer to the inner.  For years before this awareness, I was focused on the inner process. I just didn't realize it was a valid part of my life or where my purpose was.  When I finally made this shift in my 'thinking brain, my entire life direction changed.  I was finally moving 'with' myself.
I first went to therapy when I was 25. My then boyfriend, who I loved, had asked me to marry him.  I didn't want to, and I didn't know why. I don't know if I got to the bottom of that in this first therapy. But I did learn to talk to another person about what was going on for me. After 6 months, my therapist who was pregnant stopped practicing and I stopped therapy for a while.
Meanwhile, a friend gave me a deck of tarot cards. I learned the symbols and myths, the archetypes of each card.  I learned about the stages of life each of these symbols represented. I found myself giving people readings and learning to use my intuition.  I was a natural.  It was both fun and easy.  I didn't know that it would also be a training ground to 'reading' people and understanding the cycles of life.
I started therapy again when I was 28.  I was waiting tables and going to film school.  I was in a long distance relationship. I was confused about my feelings and myself. In that therapy my therapist suggested that my father was an alcoholic – a new and novel idea for me.  I began to look at how my father's rage had impacted me.  And she tried to teach me how to relax. I hadn't even known that I was anxious. After about 6 months, I moved to NYC and stopped therapy again for a while.
Once in NYC, I met a new man, fell in love and began a relationship. 6 months into that relationship, I found out this man had a serious addiction. I join Al-anon.  I went 3 times a week.  Al-anon was a gift filled with tools and new ways of looking at things. I learned that I couldn't fix my partner.  I learned to focus on myself.  I learned to get myself balanced and calmer.
Over this period of time I tried some group therapy for 'codependents. ' I also had a short stint of therapy with a therapist I couldn't stand and disagreed with.  I attended a John Bradshaw workshop and went to my boyfriend's 'family weekend' at the rehab he was in.  I participated in a 'life spring' weekend workshop.
Meanwhile, I started doing experiential work with the series of Lucia Capacchione books. I also did some work with a process called 'voice dialogue.' I learned about the many 'parts' of myself and identified the interior voices.  These processes opened up huge vistas into my internal world.  But I wasn't yet ready to really bond with and trust a therapist.  I felt safer learning about myself by myself.  I learned a lot. I built a foundation of self-knowledge and a skill set that many people do not have.
I moved to Los Angeles when I was 32. At some point during this time, I decided to start therapy again.  This turned into a longer-term therapy. I began working with this therapist and went for about 5 years. I began to explore aspects of myself that I hadn't looked at.
When I was about 33, I was on the brink of leaving the man who I had met in NY and moved out to LA with.  I brought him to my therapist.  We got nowhere.  He did not continue with the therapy, but I did. I ended our relationship.
I studied archetypal astrology and learned more about the psychological forces in our lives. I began a meditation program and meditated for many months. I started writing a lot during this time period and spontaneously 'remembering' many events of my childhood that I had pushed away.  I joined a writing group. The process of reclaiming all of myself was in full force.
Some where around this time I began to practice yoga.  I learned to focus on my body and use it as a metaphor for my life. I learned to witness and tolerate imperfection and discomfort in a much more embodied way.  I began to get a glimpse into the difference between being and doing.
When I met my now ex husband, we ran into some emotional snags very early in our relationship. I bought him with me to that therapist as a condition to continuing to see him.  He didn't want to go.  He didn't want to lose me. We spent 3 years doing therapy every other week together and me also going alone.
Meanwhile I finished my BA degree and went to graduate school to study psychology.  Graduate school was like entering heaven.  I loved the learning. I loved my classmates. I began taking trainings. I had training at my internships as well as supervision.  I learned hypnosis. I spent 4 years training at the Gestalt Institute of LA.  This training was extremely fortuitous for me because it was focused on 'relational' gestalt.  Relational was my weak spot. Because of the construct of my family, I didn't really know how to relate in a way without giving away my power.  I didn't know how to show myself in a vulnerable way. And I sure didn't know how to show myself as a therapist so that the client felt seen and valued and knew he or she was with a person who cared.
My ex husband and I eventually 'took a break' from therapy for several years and I started with a new therapist by myself. After two years, I brought my husband into that therapy with me as well – until I gave up and let go of trying to make him into 'the one.' I believe I spent about 7 years with that therapist.  She had a major impact on my life and truly guided me into getting to know and understand myself.
Meanwhile I did my 3000 hours of training to be a therapist.  I studied for 2 years for the exams.  I continued to take additional training, learned sand tray, read books, sat with children, adolescents, adults, families and couples, helping them find their voices, and their centers.
Towards the end of my formal training as a therapist, I was in an intensive training center that felt abusive to me. I chose a very esteemed Gestalt and psychoanalytic therapist.  She helped me learn to stand up for myself for the last year of that training. I learned to challenge the establishment of this training center. I learned to confront behavior that was despicable. I found myself able to have a strong presence in our process group. I finally found my 'feet.'
I took an extended training in a process called Soul Memory Discovery.  I learned how to move deep down into the mythic story that was 'blocking' a person's growth and release it.  Similar to soul retrieval, I helped people go into their imagination and 'replay' events, allowing the process of active imagination to guide them and release and reclaim parts of themselves.  This is an intense process where a person actually steps into their transpersonal black bag and reorganizes it.  The events that one steps into may not have a connection to the person's current life experience. It is not for the faint of heart.
I continued to write in a several writing groups. I trained in Soul collage and became a certified Soul Collage Facilitator. I started and ran two Soul Collage Groups and a writing group.
I was considering getting certified as a gestalt therapist. I joined a supervision group and started therapy again for another year, as part of the certification requirements.  Eventually I decided not to get certified, as my life was leading me in other directions.
My personal life and the growth I had done began to cause even more challenges for my marriage.  I was so different than when we had gotten married.  My focus on the internal and my need for emotional connection was much different than my husband's. I wanted so much more and was no longer willing to feel as if I were starving to death in our connection. I made a decision that I would do whatever it took to reach my full potential as a human. I set that intention.  I initiated a divorce.  I began to write about the therapeutic process. I continued to take trainings and workshops and learn more and more about 'healing.'
I started to study the principals of abundance. It just seemed like the next step. I had unearthed and learned so much, but I still had pockets of fear.  I knew fear was the opposite of abundance.  My understanding of abundance shifted from 'having' to 'appreciating' without fear.  I was turning the contents of the black bag into magic.
I met my current husband.  We connected on a deep level very quickly. I began to go to his therapy with him on occasion and eventually fairly regularly.  His therapist told of us a workshop for couples that might be fun. We went. I attended another workshop for families with him. We took another couple's workshops together.  He liked doing them. My focus shifted from my own internal work to helping others with their relationships.  I realized that even when I was doing my own internal work, that I was working on a relationship with myself or between parts of myself.  I began to see relationship in everything. I took trainings with some of the major couples therapist trainers. I took an extended training in emotionally focused therapy for couples.
I began writing WeConcile.  That process of writing took me three solid years. It changed both my husband and myself.  After I wrote it, he would read it and make suggestions. Writing, reading, re-reading and editing the material, allowed both of us to cement in the tools that it provided.  Our relationship became safer and safer.
I began another meditation training.  I moved deeper and deeper into parts of myself I hadn't been aware of.  I learned more and more about my interior and the interior of others.
My life has become about the inner journey.  It has become my expertise and my purpose.
When somebody is afraid of therapy, it reminds me of whom I must have been over 27 years ago, before I had even started, when it all was a big unknown. It reminds me of how far I have come and how beautiful my life has gotten.  Then I want to explain to them the story of the little black bag and those little put away items that you may think are 'not okay.'  When you pull them out of the bag – these pushed away and neglected parts of yourself – and give them your attention, they turn into your greatest gifts. They become the magic, the hope, the vision and the dream. They become your authenticity, your truth and your humanness.  Each one becomes an essential quality on your journey. In a sense they are your talisman, your lucky charms, instead of your demons.